Press conference on Senate Bill 287. Thank you to Senator Harold Jones and Representative Scott Holcomb for championing S.B. 287 and working to ensure that survivors of sexual assault are no longer denied justice in Georgia. 
We are excited that S.B. 287 has passed out of the Georgia Senate Judiciary Committee! Thank you to Senator Harold Jones & Representative Scott Holcomb for your tireless support of this important legislation and for recognizing that survivors deserve access to justice.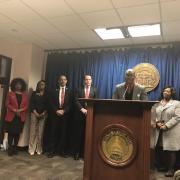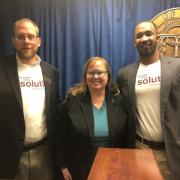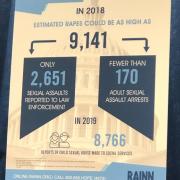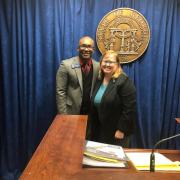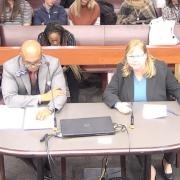 __________________________________________________________________________
GNESA commends all survivors for their strength and courage.  We also want to thank those survivors who came forward in the Weinstein case.  GNESA appreciates the jury members for their commitment to seeking justice and believing survivors.  While we are pleased that the jury found Weinstein guilty on several charges,  we as communities still have a lot of work to do. Sexual violence against women and girls will not end until we address social norms (attitudes, belief and behaviors) that perpetuate this violence. 
GNESA challenges communities to believe and support survivors. By holding each other accountable we eliminate social norms that are harmful and perpetuate sexual violence. This accountability starts with each of us. 
_________________________________________________________________________
Georgia Network to End Sexual Assault (GNESA) statement on At-home Rape Kits
September 16, 2019
The Georgia Network to End Sexual Assault (GNESA) opposes the use of at-home rape kits and is greatly concerned about marketing of them to the general public. Me Too Kit is a company that has claimed to create the first at-home rape kit. Me Too Kit has started a wait list for their kits on their website and developed a pilot program for colleges and universities. GNESA strongly urges against purchasing and using this at-home kit. The at-home kits pose concerns for confidentiality, the victim's safety and well-being, chain of custody and admissibility in court. 
 GNESA wants to make sure that victims of sexual assault in the state of Georgia understand that they have the right to a free "forensic medical exam" provided by a medical professional.  
A forensic medical exam consists of forensic evidence collection, a full medical exam, STI and pregnancy prevention options, STI treatment, and treatment for medical injuries. These exam services are not provided by the at-home kit. Access to a rape crisis center or campus advocate may be available when being examined in a sexual assault center, hospital or medical center but is obviously not included with the at-home kits.
A forensic exam following a rape is conducted by a medical professional, often a specially trained sexual assault nurse examiner or forensic examiner. An exam is necessary for rape victims who choose to have their evidence collected and receive medical treatment. This kit obviously cannot provide needed medical care and other services that are available when exams are performed in a sexual assault center, hospital or medical center.
We do not advise anyone to use an at-home rape kit as a viable alternative to a forensic exam. We also do not advise that any college or university encourage students to use this product or make it available for use.
Other organizations have released statements critical of the 'MeToo Kits,' including the National Alliance to End Sexual Violence, the International Association of Forensic Nurses, the Campus Advocacy and Prevention Professionals Association (CAPPA), and the Michigan Attorney General's Office.
Sexual assault centers throughout Georgia are community based advocacy centers who offer free and confidential services to victims/survivors of sexual violence—available 24/7.  If you or someone you know has experienced sexual violence you can find your local advocacy center at https://www.gnesa.org/page/rape-crisis-centers-georgia or by calling 1-800-656-4673 for the closest center. 
####
Georgia Network to End Sexual Assault (GNESA) provides leadership and resources for sexual assault centers, programs and allies to prevent sexual violence while promoting a comprehensive, socially just response for all victim/survivor. We support, convene, and collaborate with sexual assault centers, programs, advocates, prosecutors, medical personnel and law enforcement officers to promote a more victim-centered response to sexual violence, and increase effective criminal justice. We believe sexism, racism, homophobia, classism, oppression of people with disabilities, religious oppression, and ageism are among the root causes of sexual violence. GNESA is committed to challenging and changing institutions, issues, practices and policies that promote these systems of oppression.
__________________________________________________________________________
I Ask for Consent. #SAAM #IASK
Please check our social media accounts for information about events that took place around the state. 
Facebook
Twitter
GNESA would like to thank all of our statewide partners for the work they do everyday assisting survivors and striving to end sexual violence in Georgia. We appreciate you. 
_________________________________________________________________
Hundreds arrested in trafficking sting: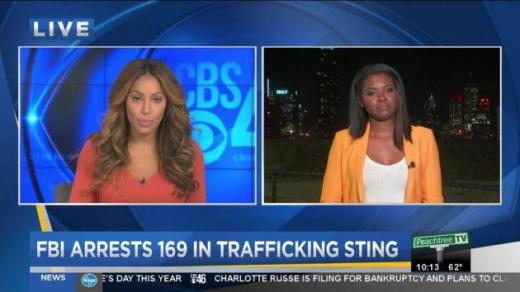 _________________________________________________________________