COVID-19 Update 
The Georgia Network to End Sexual Assault (GNESA) has been closely monitoring updates and recommendations from the Centers for Disease Control and Prevention (CDC) and the World Health Organization (WHO), as well as state and local governments regarding the continuing spread of coronavirus (COVID-19). As our communities prepare for the spread of coronavirus (COVID-19), sexual assault programs are preparing as well. The health, safety and well-being of survivors, sexual assault center staff, volunteers and community members are our focus.
GNESA staff will be working remotely until further notice; however, we will continue working on a daily basis to support survivors through supporting sexual assault centers statewide. We understand that this is a challenging time for survivors and the centers that support them. Communities as well as centers may have to find creative ways to support survivors during this time. GNESA supports our centers efforts in navigating this challenging terrain.
Please feel free to reach out to us via 404-815-5261 or info@gnesa.org for more information.
To find a local program near you, please click here or call RAINN at 800-656-4673. For urgent matters, please call 911.
United Way COVID-19 Relief Fund  Please call 1-866-211-9966 to find local resources for help with rent, bills and food.
It has come to the Georgia Network to End Sexual Assault's (GNESA) attention recently, correspondence from a business promoting the use of do-it-yourself (DIY), at-home sexual assault evidence collection kits have been distributed throughout various states. GNESA is writing to express our continued concern for these over-the-counter rape test kits. Despite the national COVID-19 pandemic, we object to any promotion, sale, free distribution, or use of the DIY sexual assault evidence kit for the following reasons:
● The medical forensic exam comprises significantly more than evidence collection. Exams focus on the health and well-being of the survivor. No aspect of the DIY kit addresses pregnancy, Human Immunodeficiency Virus (HIV), sexually transmitted disease (STD) prevention, or the short- or long-term physical and mental health consequences that result from sexual violence victimization.
● DIY kits discourage the survivor from seeking critical health care and advocacy services.
● DIY kits are falsely marketed as an easy way to collect "evidence" when no reason exists to believe the "evidence" collected would be admissible in a court of law.
● The Official Code of Georgia (O.C.G.A. §17-5-72) states that: A victim shall have the right to have a free forensic medical examination regardless of whether the victim participates in the criminal justice system or cooperates with law enforcement in pursuing prosecution of the underlying crime. A victim (patient) "shall not be required to pay, directly or indirectly, for the cost of a forensic medical examination. The cost of a forensic medical examination shall be paid for by the Criminal Justice Coordinating Council, Crime Victims Compensation program (https://cjcc.georgia.gov/victimscompensation). The Sexual Assault Forensic Examiner shall maintain chain of custody of all forensic evidence until all evidence is turned over to the receiving law enforcement agency (unless other arrangements are made based on a community's protocols or procedures). We believe in a victim centered approach in supporting survivors. This support includes but not limited to appropriate medical, victim advocacy and law enforcement services provided by trained professionals. Survivors deserve no less.
Despite the challenges that COVID-19 presents, a patient who has experienced sexual assault—like any person experiencing a health emergency—will have access to the examination and treatment they need. Sexual Assault Nurse/Forensic Examiner (SANE) programs are open and caring for patients, adapting the location and delivery of care as needed. SANEs/SAFEs are working closely and collaboratively with emergency departments, advocacy, and law enforcement to ensure the patient knows where to receive care. Clinicians have a responsibility to remove barriers to care for all patient populations across the lifespan. During this moment of the national pandemic, we must continue to express fidelity to patients by ensuring essential access to trauma-informed medical care and justice for patients who experience violence. We find it unconscionable that companies are taking advantage of this national emergency to create barriers to critical medical care by promoting incorrect, misleading, and potentially harmful information. If you have any questions or concerns you would like to discuss, please do not hesitate to contact GNESA at (404) 815-5261 or email at jbivins@gnesa.org.
Resources for SA programs compiled by the Resource Sharing Project – COVID19 Resources
Since information and guidance continues to change and evolve, RSP created this COVID-19-specific resource page to share information relevant to managing coalitions, offering TA around providing sexual assault advocacy, working with funders, and getting support during this time.
http://www.resourcesharingproject.org/covid19-emerging-response-resources
National Sexual Violence Resource Center (NSVRC) -COVID19 Resources
https://www.nsvrc.org/blogs/resources-for-covid-19
Guidance for Managing Ethical Issues In Infectious Disease Outbreaks
https://www.who.int/blueprint/what/research-development/guidance_for_managing_ethical_issues.pdf?ua=1
Victim Access to Services
As happens during natural disasters, "victims and their family members or companions may not report a sexual assault or seek services for a variety of reasons. They may feel that sexual assault is not a "life or death issue," or even very important at the time of the assault. Because of the chaos associated with the disaster, victims may not know how to seek services, where to go, or who to talk to. They may feel shame or self-blame, and think that they will not be believed, particularly since other emergencies are going on. In cases of child sexual abuse or intimate partner sexual assault, victims or their family members may be pressured by the abuser to stay together as a family in the wake of the disaster; the victim may also have mixed feelings toward the perpetrator and may depend upon him. And attempts to manage so many other survival issues may take precedence. Additional barriers may include availability of services, confusion of roles and processes, and privacy needs" (LaFASA & NSVRC, 2008, Sexual Violence in Disasters).
It is important to communicate with your community partners in order to know the best way to connect survivors with needed services, such as getting a forensic medical exam or reporting to law enforcement, during times when these systems may already be stretched to their limit. Advocates should also reassure survivors that they have the right to access these services.
Hospital Accompaniment
Please use your best judgement when determining if folks should provide accompaniment services to individuals. If folks have colds, history respiratory illnesses, compromised immune systems, or other health issues, they may not be the best candidate for providing accompaniment to the hospital. It makes sense to take precautions. Below are some resources as well as fact sheets that have been provided by the CDC to Health Care Providers.
Other Resources
International Association of Forensic Nurses COVID-19 resources
The Emergency Nurses Association – Practice resources
Mental Health Resources from Mental Health America
COVID-19 Risk Exposure Precautions
Access to SANE/Health Services
Connect with your SART members to ensure coordination of services.  Some information to discuss includes:
Is the hospital restricting access to "non-essential" visitors, and what does that mean for advocates responding to the hospital?
Has the advocacy program modified their services in any way (e.g. telephone services only?)
If an advocate is unable to provide in-person hospital response, coordinate with about how they might be available to the survivor by phone.
If a survivor has an opportunity to speak with an advocate by phone, please ensure the survivor is able to talk with the advocate in a private location at the hospital that promotes confidentiality.
      Take guidance directly from local health officials.  However, if needed, please advocate on behalf of
      survivors that medical care following sexual violence is to be considered a medical emergency and
      not an elective procedure.  We all must be creative and flexible so that access to patient care is not
      compromised or delayed. 
Telehealth Counseling/Digital Response Resources
NNEDV's Digital Services Toolkit includes new resources and compiled state and national guidance to help domestic violence coalitions, service providers, and advocates support survivors and operate effectively during a crisis/disaster.  Key resources in the toolkit include:
Webinars on Remote Advocacy from NNEDV: 
Telehealth Counseling Options – Pennsylvania Coalition Against Rape
How do I obtain consent from a client to use tele-counseling if we cannot meet in-person?
Email the informed consent page to the client to review. Best practice would be for the client to reply to the email indicating their consent, or signing the form and sending it back to you (to have a paper trail). If you cannot obtain written permission, the client can provide verbal permission – though, you must document this in their file.
Resources for Online Meetings, Classes, and Events
Sample Telehealth Consent Letter
Sample Counseling Letter to Clients
FOR ADMINISTRATIVE RELATED RESOURCES
Considerations for serving sexual assault survivors:
Survivors may experience a heightened sense of anxiety during this time, agencies should be prepared for the potential of an increase in hotline calls. 
Survivors who are self-quarantined, whether by choice or requested, may experience heightened anxiety being confined in a space, particularly if the sexual assault occurred in their home.  Survivors may also be in a space where there is someone causing them harm and the hot line may be their only form of support. Individuals who answer the hot line should be prepared to help survivors manage symptoms and create emotional/physical safety plans. 
Due to the possibility of an increase in hotline calls and the supportive counseling skills hotline workers may need to employ, agency leadership should consider communicating with their hot line staff/volunteers about ways to safely debrief with their supervisors and hot line rotation among staff.  
National Network for Youth – Coronavirus Resources: Resources for Community-Based Service Providers
National Network to End Domestic Violence Coronavirus Guidance for DV shelters
U.S. Centers for Disease Control and Prevention (Date Published: 2/12/2020)- Interim Guidance for Businesses and Employers to Plan and Respond to Coronavirus Disease 2019 (COVID-19)
Pandemic Preparedness In The Workplace And The Americans With Disabilities Act
National Strategy Sessions on Sustaining Services During the COVID-19 Pandemic http://reachingvictims.org/
State DOL Info & Families First Coronavirus Response Act (FFCRA)
The Wage and Hour Division provides information on common issues employers and employees face when responding to COVID-19, and its effects on wages and hours worked under the Fair Labor Standards Act (FLSA), job-protected leave under the Family and Medical Leave Act (FMLA), and paid sick leave and expanded family and medical leave under the Families First Coronavirus Response Act (FFCRA).
FFCRA will help the United States combat and defeat COVID-19 by giving all American businesses with fewer than 500 employees funds to provide employees with paid leave, either for the employee's own health needs or to care for family members. The legislation will ensure that workers are not forced to choose between their paychecks and the public health measures needed to combat the virus while at the same time reimbursing businesses. More information: https://www.dol.gov/agencies/whd/pandemic
IRS COVID Resources & Guidance
Georgia Department of Labor  https://dol.georgia.gov/gdol-covid-19-information
Employer's Council
Covid 19 scenarios and benefit implications – Alera Group
FMLA New Notice to Employees -   Explanation: https://www.felhaber.com/new-covid-19-stimulus-legislation-requires-new-...
State & Federal Grantee Guidance
Georgia State Public Health Resources https://dph.georgia.gov/novelcoronavirus
Criminal Justice Coordinating Council Resources– https://cjcc.georgia.gov/grants/covid-19-resources
Office on Violence Against Women –
– March 19 2020 Message from OVW Acting Director Rogers Regarding COVID-19 (vs.06) pdf
– Grantee Staff Pay FAQ March 19 2020 pdf
Sample Pandemic Emergency Action Plan
Sample Emergency Closure/Paid Administrative Leave Policies
Emergency Closure: When the XXXX Center office is unexpectedly closed because of uncontrollable factors (i.e., blizzard, tornado, flood, pandemic health crisis), staff scheduled to work will be considered excused absence with paid administrative leave and will not be charged to an individual's PTO. If the office is closed during an employee's previously-scheduled PTO or holiday leave, the time off must still be charged to the employee's PTO balance. Extended closure beyond 3 (three) work days is subject to review and alternate arrangements may be required in order for employees to continue receiving pay; employees will be given 24 (twenty-four) hours' notice of any such required arrangements.
Paid Administrative Leave: In the event of an Act of God (ie tornado, flood, pandemic health crisis) XXXX Center may have to temporarily reduce or cease business activities. If this were to occur, staff may be placed on paid administrative leave.
Sample Emergency/Paid Leave: The Executive Director has the discretion to provide additional leave for staff (full and part time) in the event of an emergency or public health crisis. This leave would be in addition to any sick/personal leave and vacation leave accrued by the individual employee. Examples of the types of emergencies that may be covered include forest fires and corresponding evacuations, environmental emergencies (flood, tornado, etc.), emergency weather limitations, and pandemics/public health crises requiring social isolation. This leave will be granted to all staff in a fair and reasonable manner.
Paid Administrative Leave: In certain special conditions such as a natural disaster, pandemic health crisis, fire, flood, or other environmental situation making it detrimental to the health and safety of employees to remain on site, it may be necessary for the office and/or facilities to close and some or all staff may be required to remain home. The Executive Director, or their designee, may determine to pay staff their usually salary, and continue benefits through the duration of the special circumstance. Paid Administrative Leave days are not accrued, will not be paid out upon termination of employment, and will not be carried over from year to year.  If the office is closed during an employee's previously-scheduled sick or holiday leave, the time off must still be charged to the employee's leave balance. The use of Paid Administrative Leave is at the discretion of the Executive Director, and will only be used under the provisions that the staff cannot complete their full work hours on-site or through the Flexible and Remote Working Policy.
Emergencies such as severe weather, fires, flooding, severe winter weather, power failures, earthquakes, or national, state, or local emergencies can disrupt company operations. In extreme cases, these circumstances may require the closing of a work facility and staff to work remotely. When the XXXXX office is unexpectedly closed (i.e., emergency closure) because of uncontrollable factors time off for staff scheduled to work will be considered excused absence with pay and will not be charged from their balances of accrued paid time off. The Executive Director (or authorized representative) will declare that an emergency is in effect from either natural or human caused disasters by 6:30AM of that day.  This declaration could result in a late opening, no opening, or an early closing, working remotely, and will be communicated via all-staff email. Directors will notify their direct reports and interns via text message or phone call. Employees are responsible for maintaining current contact information on file with their supervisors and XXXXX Centers. Employees will be individually responsible for communicating with any partners or external parties with which they have scheduled meetings, and should initiate out-of-office email and voicemail messages.
Sample Remote Work/Flexible Workplace Policies
Remote Work: Working remotely is permitted only in special circumstances with prior approval from the employee's supervisor and for specified tasks or projects. With Executive Director approval, a specific job description may be designated as remote in order to attract or retain qualified staff; however, this designation may be removed at any time. Remote employees are expected to maintain regular work schedules to accommodate the needs of the XXXXX Center, and they shall report for duty in XXXXX when deemed appropriate by their supervisor.
Sample Emergency Closure/Remote work: At the discretion of the Executive Director, XXXXX employees may be required to work from home in the event of a public health crisis or emergency. Depending on the length of time working from home is required, employee's may be reimbursed for their internet expense from home. This will be decided on a case by case basis. When required to work from home for an extended period, employee's will be asked to sign a telecommuting agreement. They will be required to clearly record work and leave time, as well as, proactively communicate with supervisor and staff regarding their availability.
Working Remotely for Nonprofits– Wild Apricot Blog
Remote Workplaces During a Public Health Crisis – NNEDV
Remote Supervision in Rural Dual/Multi-Service Advocacy Agencies – National Sexual Assault Coalition Resource Sharing Project
Sample Shelter In Place Letter
In the case of a "shelter in place order" is activated, below is a sample letter that can be used and carried. HEALTHCARE / PUBLIC HEALTH
· Caregivers (e.g., physicians, dentists, psychologists, mid-level practitioners, nurses and assistants, infection control and quality assurance personnel, pharmacists, physical and occupational therapists and assistants, social workers, speech pathologists and diagnostic and therapeutic technicians and technologists)
· Workers who support food, shelter, and social services, and other necessities of life for economically disadvantaged or otherwise needy individuals, such as those residing in shelters
These two areas seem to best support the work the sexual assault centers do at the local level. The website for your reference from Homeland Security:
https://www.cisa.gov/publication/guidance-essential-critical-infrastructure-workforce
Sample Letter
Organization Letterhead
To Whom It May Concern:
I am a staff with (Organization Name). As a staff, I am responsible for providing social services and other necessities of life for economically disadvantaged or otherwise needy individuals.
Functioning critical infrastructure is imperative during the response to the COVID-19 emergency for public health and safety as well as community well-being. Our organization has a critical role and a special responsibility in these times to continue operations
I am considered an "Essential Critical Infrastructure Worker" which is designated by the Department of Homeland Security. Thus, I am considered an essential part of the Healthcare/Public Health category.
At this time, I have the responsibility to maintain my normal work schedule in accordance with the above needs.
Signature
Board Source Response to COVID-19
New Requirements for Georgia Employers to File for Partial Unemployment Benefits
Funds for COVID-19 Relief in Georgia
United Way COVID-19 Relief Fund  Please call 1-866-211-9966 to find local resources for help with rent, bills and food.
PPE: Face Shields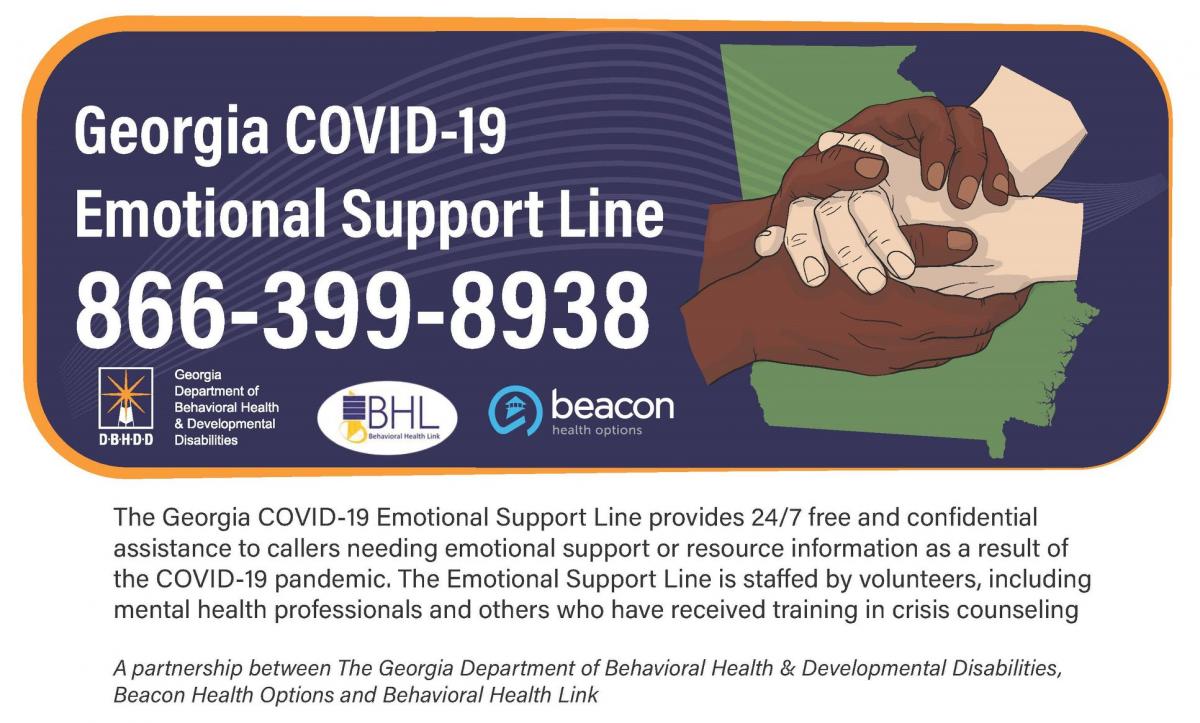 To find a local program near you, please click here or call RAINN at 800-656-4673. For urgent matters, please call 911.